Jun 5, 2023 01:45 PM Central
Carla Bakker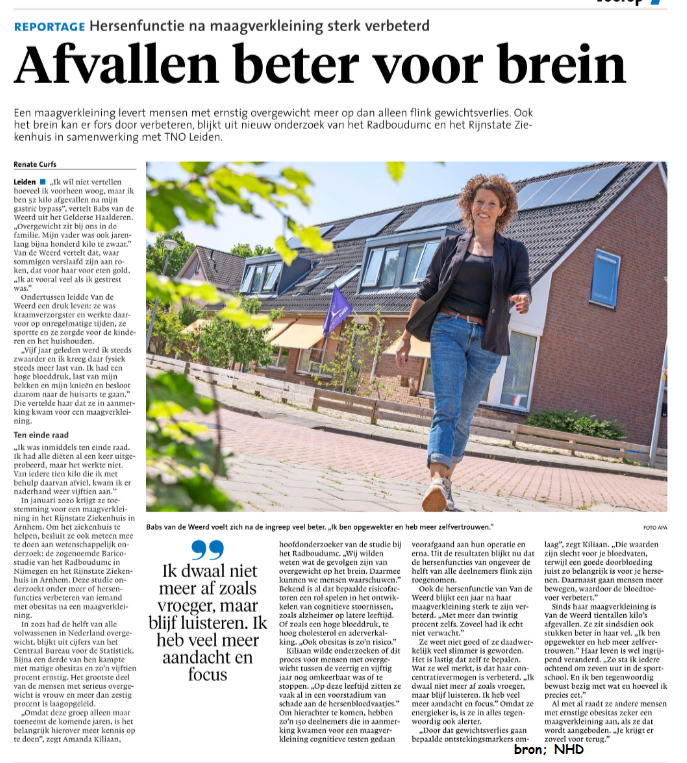 Bij krant kun je reageren op een artikel dat in de krant staat.
De stoom kwam bijna uit mijn oren kwam omdat ik vanbinnen kookte heb ik gelijk een stukje naar de krant gestuurd die ook nog is geplaatst. [zie onder]
Reactie op;Hersenfunctie na maagverkleining sterk verbeterd
Afvallen beter voor het brein.
Natuurlijk is afvallen beter voor het brein.
Ik kookte vanbinnen, de stoom kwam bijna uit mijn oren.
Dat ik het stuk las over een maagverkleining.
Mensen worden zo op het verkeerde been gezet.
Je komt niet in een paradijs wat ze je voorschotelen.
De laatste zin van het artikel "Ik ben tegenwoordig bewust bezig met wat en hoeveel ik eet".
Al was dit eerder gedaan, dan was de maagverkleining niet nodig geweest.
Op internet staat over maagverkleining letterlijk;
"Daardoor wordt het ingenomen voedsel niet volledig verteerd"
"Na deze operatie kunt u minder eten en voedsel wordt minder goed opgenomen, met gewichtsverlies tot gevolg".
Mijn toelichting hierop als orthomoleculair therapeut.
Gezondheidsverlies tot gevolg.
Ik krijg mensen MET MAAGKLEINING waarmee het niet goed gaat.
Weer overgewicht, of ondervoed, zeer snelle veroudering en allerlei andere klachten.
Wat tegenwoordig het probleem is van overgewicht.
Precies wat op internet staat als reclame voor de maagverkleining.
"Voedsel wordt niet volledig verteerd en daardoor wordt voedsel minder goed opgenomen".
Een verstoorde darmwerking.
Door een verstoorde darmwerking verteert voedsel niet goed daardoor kunnen voedingstoffen niet goed worden opgenomen en ontstaat juist overgewicht…
Mensen gaan bij overgewicht lijnen. Bijvoorbeeld vet-, koolhydraatarm of andere dingen uitsluiten.
Waardoor de darmwerking NOG meer verstoort raakt. Daardoor juist overgewicht ontstaat. Helaas ook de 'zogenaamde' welvaartsziekten.
75% van de bezoekers aan de huisarts komen met klachten die spijsvertering gerelateerd zijn.
Wat voor klachten dat zijn? Overgewicht, hoge bloeddruk, hoog cholesterol, diabetes 2, slecht slapen, stress, vermoeidheid, fibromyalgie, burn-out, gewrichtsklachten, depressie
brandend maagzuur, hoofdpijn, hormonen-, concentratieproblemen, chagrijnig, niet lekker in je vel en vele andere klachten.
De spijsvertering herstellen. Dat is een holistische manier zonder medicijnen, supplementen, honger moeilijk dieet of sportschool en pak je alle problemen gelijk in een keer aan. Dus ook het brein en overgewicht.
Het bereiken van je ideale gewicht is het resultaat dat vanzelf volgt.
Een maagverkleining is daarvoor niet nodig.
De maagverkleining is de wereld op z'n kop.
Symptoombestrijding dat doet niks aan de OORZAAK van het overgewicht.
Overgewicht komt vaak niet van te veel eten maar door een verstoorde darmwerking.
Carla Bakker, Spierdijk.